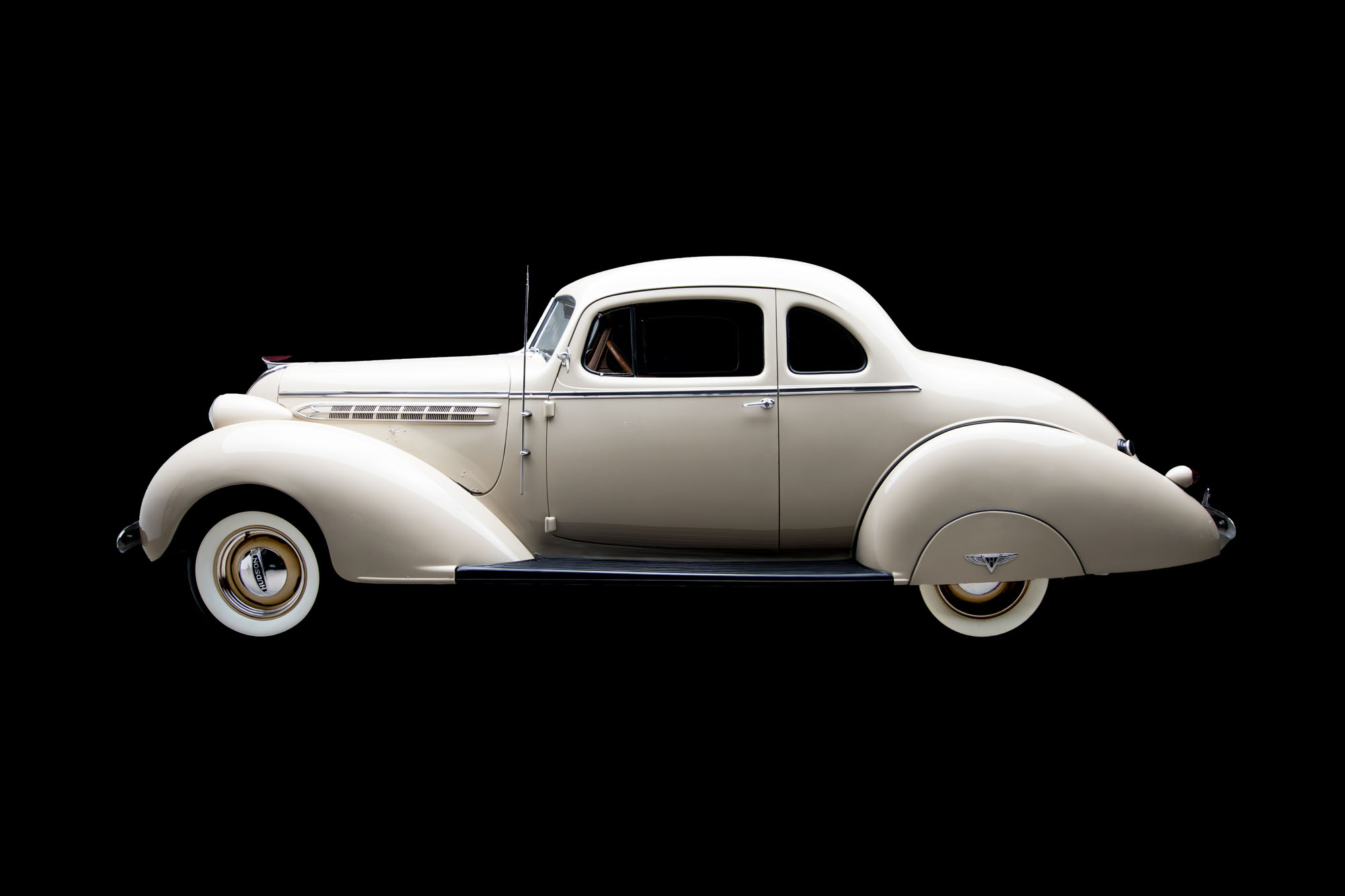 1937 Hudson Series 74 DeLuxe Eight 3-Passenger Coupe
Make / Model: Hudson DeLuxe Eight 3-Passenger Coupé Series 74
Year: 1937
Engine: Straight 8 Cylinder, 254,5 cui / 4171 cm³, 122 PS / 90 kW
Transmission: 3 Speed manual, optional "Electric Hand" pre-selector
Mileage: 86.839 (unknown)
Condition: restored, condition #2+, used
1937 Hudson DeLuxe Eight 3-Passenger Coupé – "The Doctor´s Car"
The Hudson company was named after Joseph L. Hudson, a wealthy Detroit businessman and founder of the Hudson Motor Car Company. During the 1920's the company built a reputation for their reliable Six and Super Six models. Their sister company, Essex, began producing a line of vehicles with six-cylinder engines in 1924. This put pressure on Hudson to move further up-market which they did in 1930 with their "Eight". The eight-cylinder engine used a side valve configuration and propelled Hudson into a new market.
Hudson was known for a number of firsts for the auto industry. This included dual brakes, the use of dashboard oil-pressure and generator warning lights, and the first balanced crankshaft.
The 1937 Hudsons achieved stunning success in the Class C, closed stock car racing circuit, breaking all existing records. Their durability and performance was unmatched and accounted for 38 records in 1937, many of them high speed records and endurance runs. At Bonneville, a Hudson Deluxe Eight covered 2,104 miles in 24 hours at an average speed of 87.67-mph.
Our 1937 Hudson DeLuxe Coupé is a prime example of one of the Hudson Motor Company's finest offerings.
After its first appearance the Hudson 3-Passenger Coupé was often called "The Doctor´s Car". Although it was preferred by many physicians the model became more and more popular as business car for people in all professions, as well as just a personal car.
A glance will tell you this is a beautiful machine. A look inside will show you that it is roomy, period luxurious and richly appointed. A short drive tells the story of the smoothness, ease of handling and riding comfort. After a major redesign and re-tooling for 1936, the 1937 model was further refined in detail.
With sweeping lines and a long, low appearance, this 1937 Hudson Deluxe 8 Three-Passenger Coupé is a measure of the touted pacemaking record setter.
The car is powered by its original L-Head straight eight-cylinder 254.47 cubic-inch engine that produces 122 horsepower. The engine is joined with a manual 3-speed transmission and it´s equipped with the optional "Electric Hand" pre-selector. Both – engine and transmission – have been rebuilt during the comprehensive "Nut and Bolt" restoration of the car.
The exterior is eye-catching for its forward-thinking styling and is seen with rear fender skirts, optional bumper guards, bullet-shaped head and taillights, nicely shaped rear trunk deck, twin horns, driver's sideview mirror, chromed exhaust tip, bright belt molding, split rear window, plus the distinctive and attractive Hudson grille, hood ornament and hood side louvers. Riding on wide whitewall tires on body coloring steel wheel with factory caps and trim rings.
The interior is finished in a Bedford cloth-like material. There is a storage shelf behind the wide bench seat and the dash has Art Deco-inspired instrumentation that includes optional radio and clock. A Hudson branded cabin heater allows comfort in driving in cooler temperatures. The leather-wrapped banjo-styled steering wheel completes the presentation. The front vent windows open out for flow through ventilation as well as rolling down. The large rear trunk accommodates the spare tire. A period correct leather suitcase with leather belts is attached to the wooden board covering the spare tire.
The car is a real beauty, a "Art Deco Masterpiece", benefitting from a full restoration. A delight to own, show and drive.
The car is for sale "As-Is", at a price of EUR 54.000,-.
Upon request we will check the car in death in our own mechanic workshop, OK-Classic GmbH and provide a comprehensive inspection report including a quote for recommended work to increase safety and value. 
Our Hudson Coupe is ready for a test drive. Please arrange your appointment.
Price: EUR 54.000,- ("As-Is")