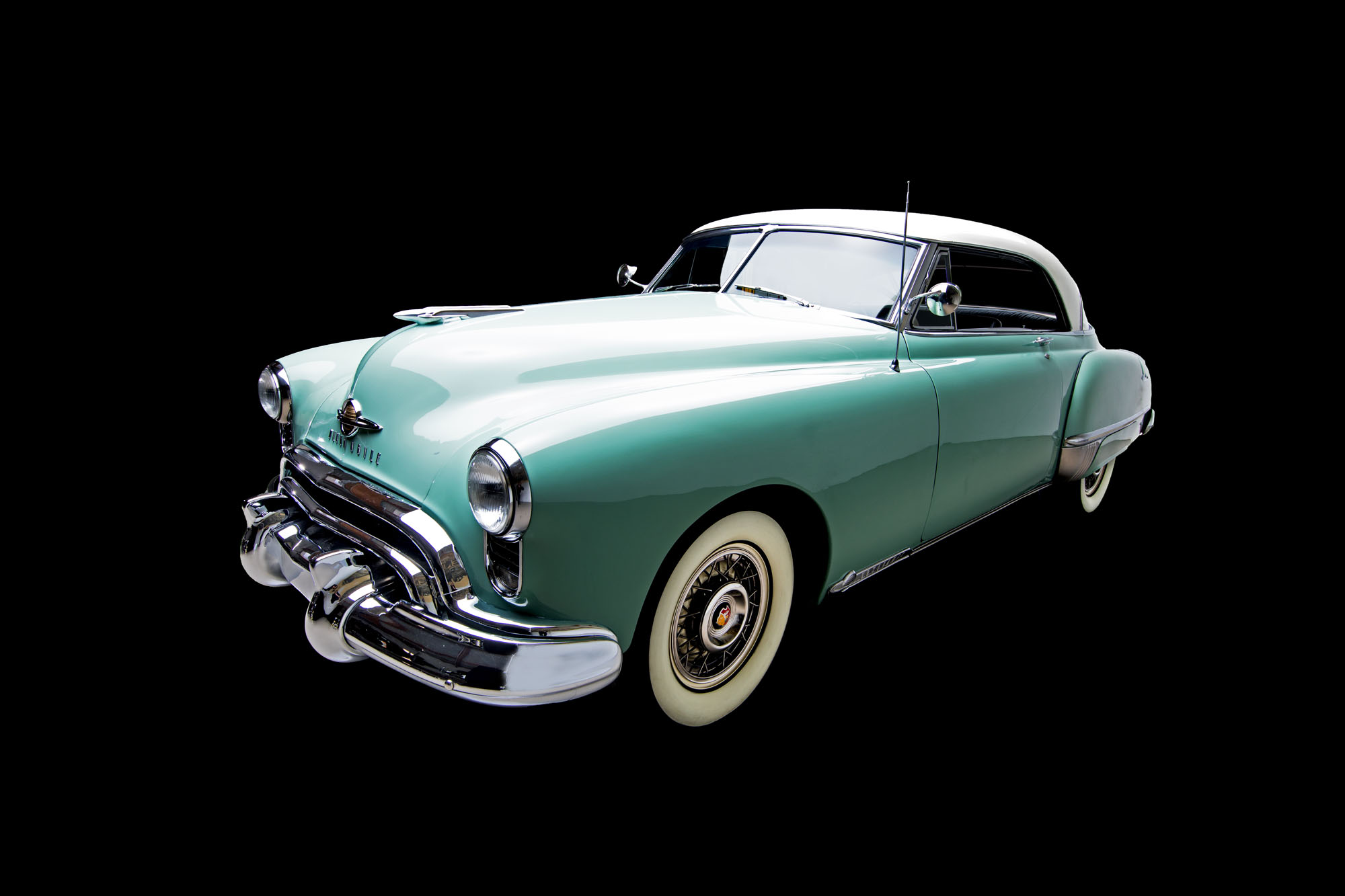 1949 Oldsmobile 98 Futuramic Holiday DeLuxe Hardtop Coupe
Make / Model: Oldsmobile 98 Futuramic Holiday DeLuxe Hardtop Coupe
Year: 1949
Engine: 303.7 cui / 4977 cm³ V8 Rocket, 135 PS (SAE) / 100,5 kW
Transmission: Automatic, 4-Speed Hydramatic
Mileage: 42.408 (believed to be original, not documented)
Condition: fully restored, condition #2, use
Description
The Oldsmobile 98 is the full–size flagship model of Oldsmobile which was produced from 1940 until 1996. The name — reflecting a "Series 90" fitted with an 8-cylinder engine — first appeared in 1941 and was used again after American consumer automobile production resumed post-World War II. It was, as it would remain, the division's top-of-the-line model.
For the first time since 1940 Oldsmobile offered a totally different styling during a single model year. The top of the line 1948 Oldsmobile 98 drew heavily from the Futuramic styling concept which would be used on all 1949 Oldsmobiles.
Standard equipment on 98s included a solenoid starter, fender skirts, E-Z-l rearview mirror, and foam rubber seat cushions. The 98s also included front and rear bumper guards, vacuum booster pump, plastic radiator ornament, dual horns, dual sun visors, and cigarette lighter. Deluxe equipment added front and rear floor mats, Deluxe steering wheel, wheel trim rings, rear seat armrests, and hydraulic window, seat and top controls on all convertibles.
With the introduction of new postwar styling the "Custom Cruiser 98" was renamed the "Futuramic 98".
In 1949 the new styling was joined by a new engine, the now famous Rocket V8.
In February 1949, several months into the model year, General Motors introduced three highly styled "hardtop convertible" coupes, the Oldsmobile 98, the Cadillac Series 62 Coupe de Ville, and the Buick Roadmaster Riviera, the first hardtopcoupes ever produced, making them US milestone cars.
The 1949 98 Hardtop Coupe was the rarest model, with a number of only 3,006 built.
Price: EUR 39.000,-